This week's topic was chosen by S. C. Mitchell – Describe your perfect writing retreat.
If you came from the amazing Sarah Hegger's site, welcome!
Today is the release day for my romantic thriller "Untrue Colors." The hideaway in my house is where I wrote most of "Untrue Colors."
In a nutshell, I took over the sunroom in our house, and I refuse to give it back. Large windows on three sides provide perfect views of huge trees, squirrels, deer, and a few neighbors.
I started writing with a snack table and a large leather chair. It worked for a while. McDreamy, my husband, however changed everything by buying a small desk on wheels. I could keep a printed manuscript, a laptop, and a cup of coffee on it.
There was only one drawback to my setting, poor posture. Agonizing.
The solution? A lime green ball chair. I can sit on that for hours and not feel the muscle strain in my back I did when in the way too soft leather chair.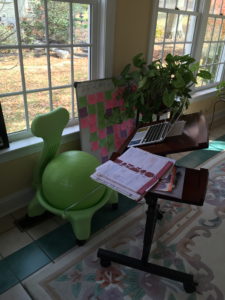 Sometimes, I head to the kitchen and stand at the island to finish some tasks. I'm also closer to the coffee. I love the retreat. I've trained myself over the years to focus on work in the office, soI tend to be more productive here than anywhere else. My slice of Heaven on Earth.
Betty Bolte is the next stop on this trip around the web. If you're lucky, maybe you'll catch sight of one of her many pets. Dogs, cats, horses.