In honor of St. Patrick's Day- we're making things a bit Irish. I've added the soda bread recipe that tends to work for me. Not too sweet. Not too dry. If you've come over from Susan Scott Shelley's blog, welcome!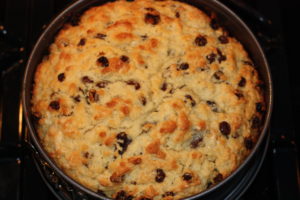 My Mother's Irish Soda Bread
Prep time: 15 minutes or 20 if you have to rummage through the house looking for ingrediants
Cook time: 40 minutes (keep an eye on it though- if it's brown at 35-add some aluminum foil to keep the bread from drying out on the sides as the inside bakes.) If it burns- you did it wrong.
Yield: Makes one loaf (or four small loaves- but if you make 4 small loaves, take them out after about 30 minutes)
Ingredients
4 to 4 1/2 cups white flour
1 Tbsp white sugar
1 teaspoon sea salt (never overestimate the salt- it can end up pretty nasty if you do)
1 teaspoon baking soda
4 Tbsp butter (unsalted)
1 cup raisins
1 large egg, lightly beaten
1 3/4 cups buttermilk (seriously- don't skimp on the buttermilk)
Method
1 Preheat oven to 425°. Whisk together 4 cups of flour, the sugar, salt, and baking soda into a bowl.
2 Using your fingers, smush the butter into the flour mixture until it resembles pellets, then add in the raisins.
3 Push your thumb into the center of the mixture to create a well. Add beaten egg and buttermilk to well and mix until the mixture becomes difficult to stir. Dust hands with a little flour, then knead dough just long enough to form a rough ball.
As soon as the ball is made- STOP.
Do not get all Chef Boyardee and over knead the loaf. Add flour if the dough is too sticky.
4 Place dough to a large, lightly greased cast-iron skillet (for best results) or a baking sheet (for not best results). Score the top of dough about an inch and a half deep in an "X" shape. If you're creative, make a shamrock. Transfer to oven and bake until the bread is a golden color and bottom sounds hollow when tapped. Check for doneness also by inserting a toothpick into the center. If it comes out clean, it's done.
5 Remove pan or sheet from oven, let bread sit in the pan for 5-10 minutes, then remove to a rack to cool the rest of the way. Serve bread warm, at room temperature, with butter smeared and melted across the bread.
GOOD LUCK!
Head over to Collette Cameron's blog to see how she celebrates.