The release of a new novella by Susan Scott Shelley and me is today! OMG. What started out as a lark, turned into a pretty cool novella.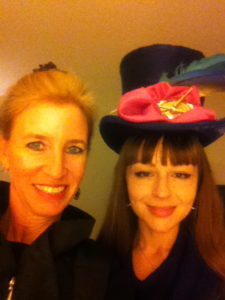 Susan and I spent hours in my kitchen and hers plotting and revising "Flirting on Ice." We're damn proud of the result.
After all that time together, I've discovered a few things about Susan you may be interested to know.
Susan takes sports seriously. She's crazy smart about players, stats, and rankings in both football and hockey. I can't tell you the number of times she rewrote a few plays I created for our fictional hockey team the Atlantic City Hustlers. Thank God she did or the team would have been playing four quarters and skating over the end zone.
In addition to her sports expertise, she can make a heroine likeable, probably because she is likeable herself. While this may not seem like a feat to some people (and yes I'm talking to all you "nice" people out there), I tend to make my heroines unlikeable to the extreme (and no, I don't think there is a parallel with me and unlikeable heroines. Do you?) Working with Susan, we created a heroine who is truly a person I'd want to hang out with.
The villain in the story is not evil to the core, but he is selfish and greedy. Just enough evil to make you root for the hero. I would have had him kill a few people and kick a puppy or two, but Susan was opposed to random violence in a romance. That's not to say there's no tension in the book, just less blood than I'd like.
In celebration of the release, we're doing a Release Day Power Play. Whoever gets the most likes or tweets from their hockey social media posts will make a donation to Hockey Fights Cancer,and we encourage all of you to donate too. It's a great cause.
http://www.nhl.com/hockeyfightscancer/donate-now.html
And we may publicly humiliate the loser too, although I hate being publically humiliated, so that part is optional!