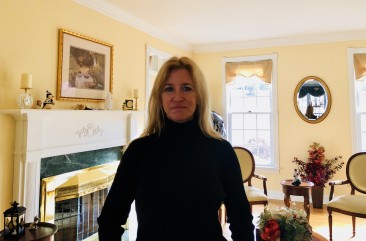 It's here. I'm beginning my fiftieth year.
Fifty.
It's been a long road to get where I am through swamps, over mountains, across oceans, and under my covers. I spent the last year trying out fifty new resolutions to bring with me into the second half of my first century. I didn't find fifty things to actually resolve, but along the way, I made some serious moves toward being the person I've always wanted to be.
Here's a few discoveries I've made last year:
I'm resilient. A few things came at me like a tsunami in the past two years, and I survived them all. I might have been knocked down, but I was never knocked out. Experience makes a person stronger. I can survive some pretty good hits and that gives a confidence I didn't have when I was younger.
My friends are my lifeline. A person doesn't need a lot of friends, but the ones I have are priceless. They support me when I need it, and lately I've needed them more than ever. My hope is to make it up to them in the next half century.
Raising children is not a job for perfectionists. My kids, no matter how much I try to convince them, will not take the easy road to success that I've laid out for them. They push out in directions I would never go, and they face challenges that they wouldn't be facing if they only listened to all of my advice since birth. Yet, they're forging amazing paths that perhaps I would have been too fearful to pursue. So, as I stand back and allow them to fail when the road gets too bumpy, and watch them brush themselves off and head out into even more difficult challenges. I'm glad they didn't listen to everything I said, because their lives are turning out perfect for them.
I'm privileged. I grew up in a middle class family with the most amazing parents. They supported me in all my efforts. Financially and emotionally. As a brand new lawyer, I married a medical student who worked hard and made something of himself. Our careers allowed me financial freedom many people don't have. Today, his everyday efforts have allowed me to pursue careers in public service and writing while raising our children. Some of the hurdles I've had to jump over on my way to success were lower for me than for others following a similar path. I understand that and appreciate it, and my law practice hopefully will make the road a bit easier for others as well.
I'm a hard worker. I definitely have advantages in my life others don't have, but I never squander opportunities. I take each task I do and commit to doing it the best I can. As I tell my kids often ( too often if you ask them), in most cases of success, it's not about talent, luck, or genetics, it's about showing up and putting in your best effort every step of the way. Hard workers who can overcome challenges and setbacks stand a better chance at success than someone who arrives at the top without any effort, because to stay at the top, effort will be necessary.
I can't eat flour and sugar. Not even a little. I have no willpower when it comes to sweets. One bite of a cookie can become a plate full of cookies in less than fifteen minutes. I gave up eating the evil substances back in December and am surviving. In fact, I feel better than ever. My Youngest can even eat ice cream next to me on the couch and remain safe from me attacking her for the last bite.
Someone told me to write a bucket list for my next 50 years. It's not necessary. I've achieved pretty much everything I'd wanted to achieve during the first fifty years of my life. I traveled all over the place, I met so many wonderful people, I was able to work in many fields, and I found my best friends and my home. For the next fifty years, I want to make it all matter.