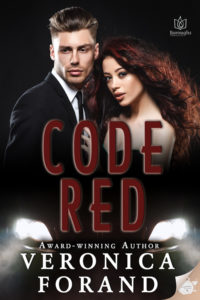 CODE RED, by Veronica Forand 
Boroughs Publishing Group
A lonely bank teller falls for the right man at the wrong time, a handsome CIA officer in the middle of a botched mission.
Jessica Wonder, a bank teller living in a remote area of Canada, fell in love with the wrong man and spirals into a month of poor choices to crush out the pain engulfing her heart.
Kieran Brody is in Canada to coordinate the swap of a Russian spy for a CIA officer. This is his last assignment. After years in the CIA, he craves a quieter life.
The assignment implodes when the CIA officer he's in charge of bringing home dies. His Russian counterparts panic and seize Kieran and Jessica, who he nicknames Red for her crimson hair. Kieran sees through Red's phony bravado and tries to protect her from the hell they've been thrust into. In the process, the fiery beauty embeds herself into his heart.