COMING March 25, 2019
Small town police officer Emma Ross loves her simple life––but it takes a hard turn into crazy when she's kidnapped by MI6 and is put under the protection of an over-bearing, albeit sexy, Scotsman. A man who believes she's lying to protect her father—a father whom she had no idea worked for British Intelligence and is now missing.
Liam Macknight's partner was assassinated and he's certain Emma's father had something to do with it. But the stubborn woman isn't talking, and she's determined to get herself killed trying to find out the truth. Locking her in a room does no good––he tried that. So he's forced to work with her, even if he's not sure he'll ever be able to trust her.
When he's assigned to kill her dad to protect the identity of British spies in the Kremlin, he knows what little trust they've gained is about to be destroyed forever…
Available at: Amazon, Amazon UK, Barnes & Noble, iBooks, and Kobo.
TRUE LIES BOOK 1:  UNTRUE COLORS, by Veronica Forand
Published by Entangled Select Suspense
***WINNER, 2016 Bookseller's Best Award for Romantic Suspense***
A 2016 Daphne Du Maurier Award for Excellence in Mystery/Suspense Finalist
She's on the run…
Brilliant art appraiser Alex Northrop's ex used stolen art to fund his nefarious activities. Now he wants her dead. But it isn't just herself she's worried about – if he discovers who she really is, he'll kill her family.Professor Henry Chilton is shocked to find a beautiful stranger passed out in his bed, and even more so when the she reveals a priceless painting is a forgery – the painting he'd planned to use to fund a woman's shelter. She's mysterious and frightened, and he is determined to discover why.Alex's knowledge of art is undeniable–just as Henry's attraction to her is irresistible. But in order to help him recover the real painting, Alex isn't just risking exposure…she's risking her life.
TRUE LIES BOOK 2:  TRUE DECEPTIONS, by Veronica Forand
Published by Entangled Select Suspense
Temptation. Seduction. Pleasure. It's all part of the game…
After his partner was murdered, Simon Dunn was done with MI6. But the cold, violent world of British intelligence never lets anyone go free. Now Simon has been blackmailed into a new job…with a beautiful new partner who's going to get them both killed.
Robotics expert Cassie Watson is a newbie field agent with as much sophistication as…well, a pacifist, vegan computer nerd. Now she's abruptly thrust into the cutthroat world of espionage with a partner who is as cold as he is brutally-and brutishly-handsome.
But when their mission is betrayed from the inside, Cassie will be forced to place her life in the hands of the one man who's anything but trustworthy…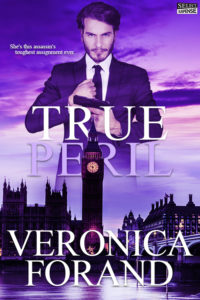 TRUE LIES BOOK 3:  TRUE PERIL, by Veronica Forand
Published by Entangled Select Suspense
2016 Romantic Suspense Finalist, Golden Leaf Contest.
She's this assassin's toughest assignment ever…
Socialite Trista Patterson turned her back on her life of privilege and dedicated herself to helping others. Her mission to protect the world's children takes her into the bleak and violent underbelly of third world conflicts. When a kidnapping attempt goes wrong, she finds herself running for her life…and married to a man she just met…as she's placed at the top of a drug cartel's most wanted list.
Some days no good deed goes unpunished.
Dane O'Brien has spent his life in the shadows as a lethal assassin. To save his soul, he trades his gun for corporate politics and becomes an undercover operative for the CIA. But when visiting his humanitarian sister turns deadly, Dane finds himself swearing to protect her friend Trista no matter the cost…even if it means stepping back into the world he swore never to return to. Although falling for the tough-hearted Trista is easy, keeping her alive is hard.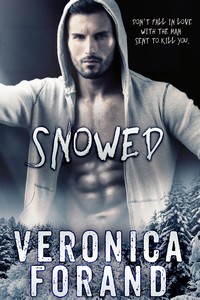 SNOWED, by Veronica Forand
Don't fall in love with the man sent to kill you…
Lorena Rubio lived a safe, simple life until she's kidnapped by Andres "Con" Conesa, right hand man for the drug lord who murdered her sister. Con must keep her at a cabin in the snowy Sierra Nevada Mountains until his boss can confirm or deny the rumor that she'd provided specifics about his drug cartel to the police. Their attraction ignites in the middle of this winter wonderland, but he's in deep cover for the FBI and has to remain there, and she refuses to attach herself to someone in the criminal world. When the boss arrives a few days and wants Lorena put on ice, Con's willing to blow his cover to save the woman he craves beyond reason, but he may be too late.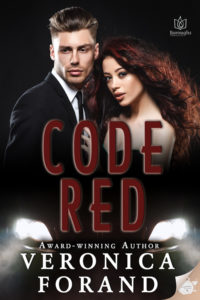 CODE RED, by Veronica Forand
Boroughs Publishing Group
A lonely bank teller falls for the right man at the wrong time, a handsome CIA officer in the middle of a botched mission.
Jessica Wonder, a bank teller living in a remote area of Canada, fell in love with the wrong man and spirals into a month of poor choices to crush out the pain engulfing her heart.
Kieran Brody is in Canada to coordinate the swap of a Russian spy for a CIA officer. This is his last assignment. After years in the CIA, he craves a quieter life.
The assignment implodes when the CIA officer he's in charge of bringing home dies. His Russian counterparts panic and seize Kieran and Jessica, who he nicknames Red for her crimson hair. Kieran sees through Red's phony bravado and tries to protect her from the hell they've been thrust into. In the process, the fiery beauty embeds herself into his heart.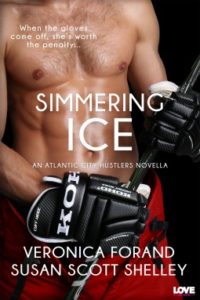 Simmering Ice (Book 2, Atlantic City Hustlers), by Veronica Forand and Susan Scott Shelley
When the gloves come off, she's worth the penalty…
Physical therapist Annie Davidson is great at her job but unlucky when it comes to love. She's just out of a bad relationship. A really bad relationship. All she can do is focus on work…that is until she runs into professional hockey player Alec O'Meara. She's a touch insecure and doesn't understand why he's interested in her.
Despite being one of the biggest players on the team, right wing Alec O'Meara prefers finesse over force. After the tragic death of his wife, he likes to keep things loose on and off the ice. But the red-headed Annie challenges his beliefs and makes him think about taking their relationship to the net.

The passion and fun they share is addicting and makes them long for more. But her insecurities that she's not good enough, and his anxiety over a long-term commitment will keep them apart, unless they can find a way to break through the defenses they've built around their hearts.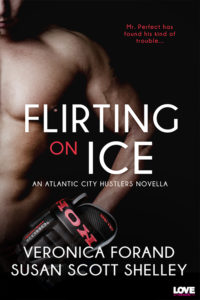 FLIRTING ON ICE, by Veronica Forand and Susan Scott Shelley
A satisfying category romance from Entangled's Lovestruck imprint…
Mr. Perfect has found his kind of trouble…
Professional hockey player Zac Elliott is in top form. He's having the best season of his career, the local fans can't get enough of him, and he's in the middle of the most successful contract negotiations of his career. When the sexy little spark between Zac and the team owner's daughter blazes to life, no matter how forbidden, he can't resist.
Philanthropist Heather Ryan can't keep her hands off of Zac. If her father finds out, it could end Zac's career and ruin her reputation. What they share is deeply passionate and intensely private…until the press exposes their illicit relationship.
Now the fans have viciously turned against Heather, Zac's game is faltering, and even his team has deserted him. The only way out of the penalty box is for Zac to play hockey like life—and love—depends on it… end Zac's career and ruin her reputation. What they share is deeply passionate and intensely private…until the press exposes their illicit relationship.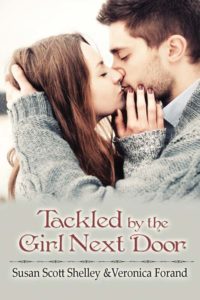 TACKLED BY THE GIRL NEXT DOOR, by Susan Scott Shelley and Veronica Forand
The Wild Rose Press
When a retired NFL player returns home to sort out his life, he finds his future in the girl next door.
Jason Black is a newly retired professional football player. Forced off the playing field due to an injury, he returns to his hometown to contemplate his future and finds solace in his relationship with his best friend, Samantha O'Brien.
Sam has spent the past five years caring for her younger brother. Home from college for Thanksgiving break, he parties hard and bullies his sister. When Jason comes to her defense, protecting her from a crowd of drunken college kids, Sam begins seeing him as more than a friend. Yet, she fears acting on their attraction could ruin the friendship she's grown to depend upon.
Just one kiss changes everything for Jason. Sam is no longer the girl next door but the woman of his dreams. Now, he just has to convince her that his feelings are real. But when the football world comes calling again and career decisions are on the line, both sacrifice all to put the other's needs first. They must decide whether to follow their hearts and make the catch of a lifetime.