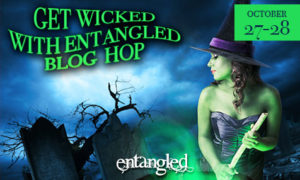 Welcome to this stop of the Entangled Wicked Blog Hop. Connect to the other blogs for more contests and great prizes by clicking on the logo above.
I've decided to wear a costume to this party. I've always loved black hair and Halloween is the perfect time to morph into someone new!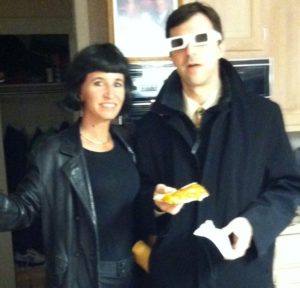 I'm one of the newest authors at Entangled Publishing. Everyone from the publisher to the editors and the publicists have been so supportive. My book "Flirting on Ice" written with Susan Scott Shelley will be released in November. It's a sexy novella about professional  hockey player who can't away from the team owner's daughter.
Mr. Perfect has found his kind of trouble…
Professional hockey player Zac Elliott is in top form. He's having the best season of his career, the local fans can't get enough of him, and he's in the middle of the most successful contract negotiations of his career. When the sexy little spark between Zac and the team owner's daughter blazes to life, no matter how forbidden, he can't resist.
Philanthropist Heather Ryan can't keep her hands off of Zac. If her father finds out, it could end Zac's career and ruin her reputation. What they share is deeply passionate and intensely private…until the press exposes their illicit relationship.
Now the fans have viciously turned against Heather, Zac's game is faltering, and even his team has deserted him. The only way out of the penalty box is for Zac to play hockey like life— and love—depends on it…
I can't wait to reveal the cover.
In the meantime, Susan and I have published a fun football novella, "Tackled by the Girl Next Door." Jason Black is a newly retired professional football player. Forced off the playing field due to an injury, he returns to his hometown to contemplate his future and finds solace in his relationship with his best friend, Samantha O'Brien.

Sam has spent the past five years caring for her younger brother. Home from college for Thanksgiving break, he parties hard and bullies his sister. When Jason comes to her defense, protecting her from a crowd of drunken college kids, Sam begins seeing him as more than a friend. Yet, she fears acting on their attraction could ruin the friendship she's grown to depend upon.

Just one kiss changes everything for Jason. Sam is no longer the girl next door but the woman of his dreams. Now, he just has to convince her that his feelings are real. But when the football world comes calling again and career decisions are on the line, both sacrifice all to put the other's needs first. They must decide whether to follow their hearts and make the catch of a lifetime.
I'm giving away a $10 gift certificate, a gift copy of "Tackled by the Girl Next Door," and a gift copy of "Code Red" my romantic suspense short story. Good Luck!