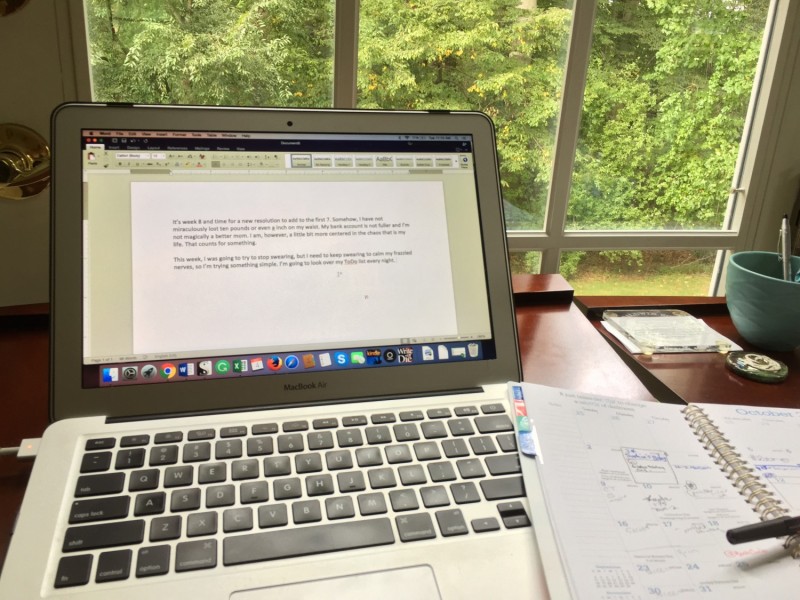 It's week 8 and time for a new resolution to add to the first 7. Somehow, I have not miraculously lost ten pounds or even a inch on my waist. My bank account is not fuller, and I'm not magically a better mom. I am, however, a little bit more centered in the chaos that is my life. That counts for something.
This week, I was going to try to stop swearing, but I need to keep swearing to calm my frazzled nerves, so I'm trying something simple. I'm going to look over my ToDo list every night before I go to bed.
Journaling
I'm better with journaling now that I force myself to do that in the morning.
No television after 8pm
I watched Law and Order the other night with my Oldest, but otherwise, I don't watch television.
Exercise everyday
I've been exercising every morning and feeling better.
Eat better, at least one salad and one nutrition shake per day.
I have not been doing this as well as I could because I'm out of the house so much and tend to grab things at drivethroughs.
Meditate everyday.
I have been decent with this. If I meditate first thing in the morning, I'm on for the whole day.
No sugar.
I ate my daughter's birthday cake. A mother's job!
Journal, Exercise, Meditate first thing every morning.
I have been okay with this, but generally only do two out of three in the morning. I'm pushing myself to get all three done.
I'm running around and traveling this weekend. Let's hope I can stay on track. Any suggestions for next week's resolution would be welcome.