Monthly Archives:
May 2014
WOW! I'm excited to have three manuscripts in the finals this year, and even more excited because one of the manuscripts was co-written with Susan Scott Shelley. 
The DAPHNE DU MAUIER AWARD FOR EXCELLENCE IN MYSTERY/SUSPENSE –Unpublished Division Finalists for 2014 are:
CATEGORY (SERIES) ROMANTIC MYSTERY/SUSPENSE
Veronica Forand and Susan Scott Shelley for Dangerous Play
Jeannie Hall for Violation of Innocence
Annette Keuning for Trust No One
Kairee Krause w/a Kairee Taylor for Secrets Wait
Jo-Ann Terpstra w/a Jo-Ann Carson for Covert Danger
HISTORICAL ROMANTIC MYSTERY/SUSPENSE
Marlene Dunsheath for Game of Chance
Jane Fox for Broken Treaties
Cheryl Honigford for The Darkness Knows
Alison Jill McMahan for The Saffron Crocus
Rosemarie Simonelli w/a Kate Colbert for The Pickpocket
INSPIRATIONAL ROMANTIC MYSTERY/SUSPENSE
Jackie Layton for Kentucky Deadly
Carolyn Miller for Unscarring Hearts
PARANORMAL (FANTASY/TIME TRAVEL/FUTURISTIC) ROMANTIC MYSTERY/SUSPENSE
Margaret A. Golla for Air Beneath a Dragon's Wings
Janet Halpin for A Moment After Dark
Janet Halpin for Beryl Blue, Time Cop
Sarah Kuest w/a Sarah Brady and Shannen Kuest w/a Shannen Brady for Healer
Roshani Chokshi for The Glass Garden
SINGLE TITLE ROMANTIC MYSTERY/SUSPENSE
Susye Bowles for Out of Control
Veronica Forand for Untrue Beliefs
Veronica Forand for Untrue Colors
Vicki Tharp for In Her Defense
William C. Walker for The Homecoming
MAINSTREAM MYSTERY/SUSPENSE
Roxanne Dunn for Murder Unrehearsed
Barbara Gerry for Reel Power, An Annie McCabe Mystery
Barbara Nickless for White Line Fever
Christa Selnick for The Kill List
Tami Wirth for The Messenger
Winners will be announced during KOD's annual Death by Chocolate Party at the RWA® National Conference in San Antonio, Texas.
Thank you so much to everyone who entered the contest and to all our wonderful judges as well as our very hard-working coordinators.
For any questions, please feel free to contact me at: daphnecontest@gmail.com
Congratulations Finalists!
Brooke Wills
2014 Daphne Contest Overall Coordinator
As I rush around trying to complete a first draft for an upcoming novel, I've decided to give you a photo tour of my past month. It's been crazy, but crazy good.
April started with the Washington Romance Writers Retreat. What a fantastic time. Highlights included Liliana Hart's keynote address, Cathy Maxwell's encouraging speech, and Romance Jeopardy with a Steampunk theme.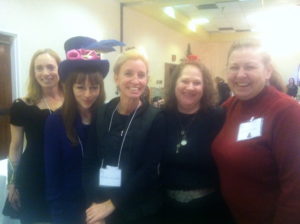 My critique partner and writing partner Susan Scott Shelley (The woman above in the large blue hat!) spent the month working on edits for our novella, "Tackled By The Girl Next Door." We have so much fun writing together. I hope our laughter and smiles show up on the page! It's scheduled to be published by the Wild Rose Press in the end of October.
On April 30th, I spent a fun morning hanging out with authors at Lady Jane's Salon with Susan Scott Shelley, Kate Forest, Penni McGee DePaul, and many others. A local news station interviewed the authors about our upcoming releases. Thank you Susan for giving the interviewer our blurb for "Tackled By The Girl Next Door." I was too tongue tied.
And to start off the month of May with a bang, I attended a workshop with Margie Lawson sponsored by the Valley Forge Romance Writers. I immediately went home and rewrote pages and pages of text to make the words more creative, interesting, and compelling. Thanks Margie, your lectures always push me to improve my craft.